Saturday dawned bright and early... a day that he has planned for a long, long time.
My youngest has been in Scouts, well, a long, long time. He went to Cub Scouts by default for years with his big brother( because mom was the den leader), and started scouting unofficially long before the proper age. The example that his big brother set for him on the path to Eagle was a good one. The adult leadership in his troop could not be stronger or more the solid kind of men that you would want your son to emulate.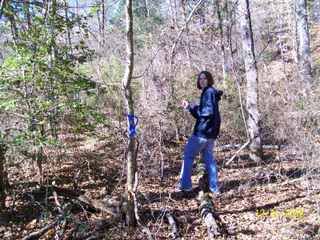 For his Eagle project, he chose to improve a trail in a State Park that is less than a half mile from our home. This is a new state park, with an amazing amount of development and improvement over just a few years. The park is technically a State Historic Site and was home to the Revolutionary period Musgrove Mill, and a private citizen home, which functioned as a Loyalist hospital and as a strategic hold on the ford of the river, helping to maintain a British stronghold in several upcountry counties. The British forces, largely made up of provincial regulars were defeated by Patriot militiamen in a battle in August of 1870.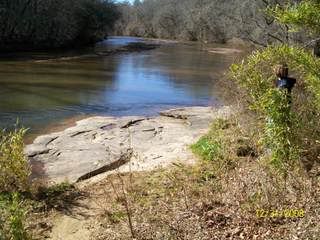 A good number of the Scout troop arrived early and went to work willingly and made an amazing amount of progress, widening an existing animal trail from a parking area to a scenic rock encropment that edges into the river. The boys' good nature and attitudes were testament to the many good things that scouting teaches them.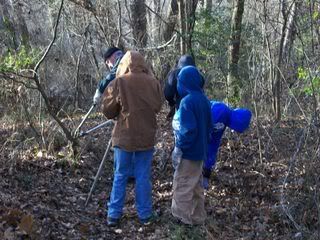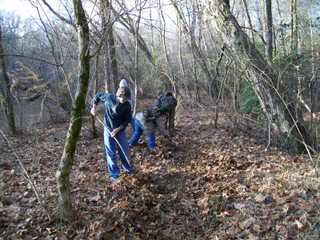 My part in all of this was to make chicken stew and brownies for lunch. Easy enough!
Most of the work was done by midafternoon. A few details remain along with finalizing the paper work. I appreciate the fact that he took on a 'man-sized' project at a place meaningful to us, and close to home. Having lived on this river nearly all of my life, I'm glad that he's chosen to give time and effort right here.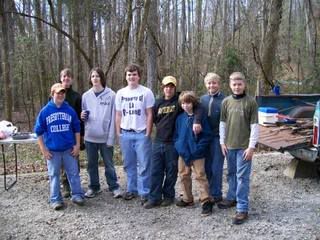 Special thanks to all of his fellow scouts and to his adult leaders for being a part of his project and his life as a scout.